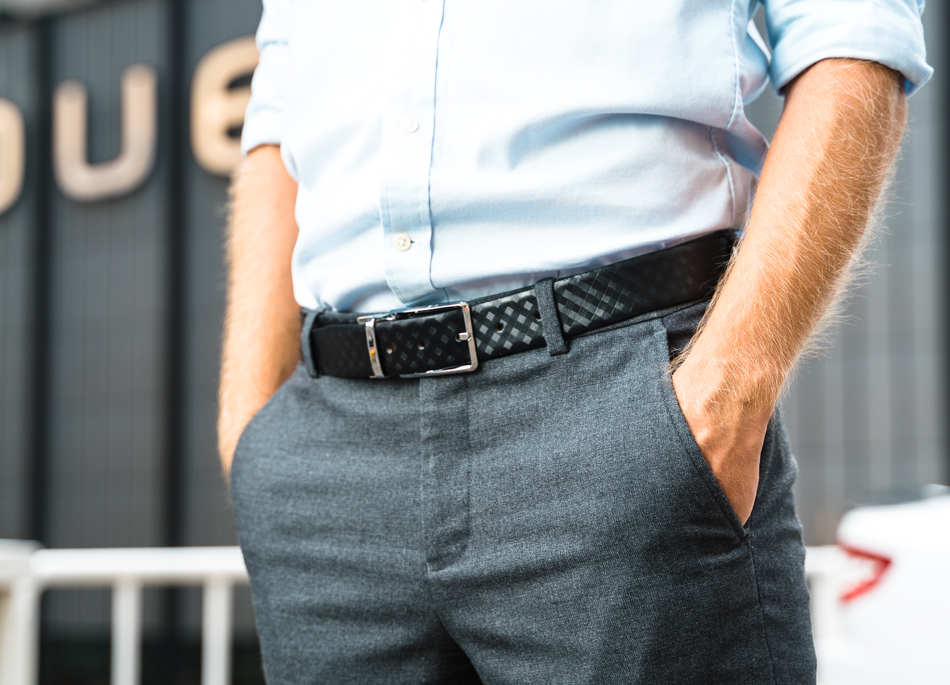 How to Get Your Perfect Size Belt – A Practical Guide for Men
It is quite evident that men have very limited options to accessorize themselves and talking in this context, any men's outfit is incomplete without a belt. In the words of fashion experts, "belts aren't meant to compliment your clothing but are an essential part of your outfit." In one place where a belt is one of the most desired accessories among men, at the same time, it has been found that ninety percent of the men end up buying the wrong size. Belts are one of the most selling accessories in the men's category yet finding a well-fitting belt is a challenge?
There are two main reasons why men get the wrong sized belt. First, they seldom give intended thought to buying the right belt. Second, they always buy with the belt size myth - our trouser size is our belt size.
Are you one of those men?
What you may not know is that wearing a belt of incorrect size can make your outfit look sloppy or cause discomfort all day long. This is a major fashion disaster, too.
The picture below illustrates it well.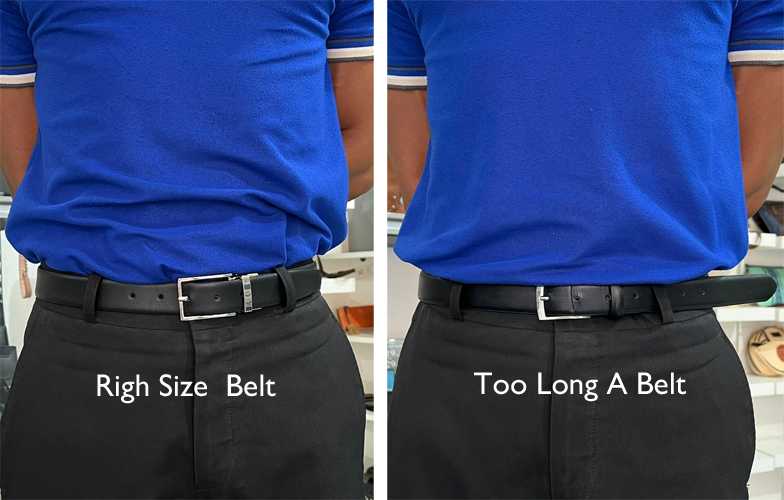 Getting the right answer - what belt size am I - will avoid such a disastrous look and help you add more to your personality.
The purpose of today's blog post is to show you how to measure for a new leather belt - from beginning to end - so that you do not have any surprises once your new well-fitted and right size belt arrives.
The first general rule for belt sizing is men's pant size plus two inches equals your belt size.
The most common mistake people make when shopping(online) for a new belt is assuming their belt size is the same as the number or letter size of their existing pants. In reality, this isn't the case since modern clothes are made from materials that stretch and deform with use, and manufacturers frequently use vanity sizing to sell them.
To buy the belt of right size, follow the general rule to end up buying your perfect size. Pants size ≠ belt size. If your pants size is 32, buy a belt size 34. If your pants size is a 34, buy a belt size 36; if your pants size is a 36, buy a belt size 38, etc. The reason for buying a belt one size larger than your pants size is to give yourself a few inches of wiggle room should your body ever change the size and an important thing to note is your belt is attached to your pants, unlike your pants that attach directly to your exact waist size.
If you are a denim enthusiast and buying a belt for your denim jeans, then the general rule will slightly change and the belt sizing will be men's jeans size plus four inches equals your belt size. For example, If your jeans size is a 32, buy a belt size 36; If your jeans size is a 34, buy a belt size 38, etc.
In light of the vast differences between clothing brands in terms of size, we don't recommend relying on just one simple formula to find the correct belt size. Therefore, another and better method is to always measure yourself before purchasing a new belt.
Follow the steps for the right measuring technique to give you a perfect and well-fitted belt.
Step 1:
Put on the jeans or the trousers you want to wear with your new belt. Pull your pants to the right waistline that you usually keep.
Step 2:
Put the measuring tape through the loops of your pants or jeans exactly as shown in the image below.
Step 3:
Pull the tape measure snug and take note of your measurement to the nearest quarter inch and here you get your perfect belt size. Use this measurement as your belt size while buying your next belt and you will get the right belt size to fit perfectly your next outfit.
Using the above measuring technique, order your next leather belt from www.oxhideleather.sg and you will get the perfect belt size to fit you. And our belts are designed with enough holes and length to allow you to adjust the buckle to your comfort level.
We hope this guide has been helpful in getting you fit belts like a pro! If you're still uncertain what size belt to order or have a measurement question, please feel free to contact us. We're in the industry for quite some time now and will be happy to guide you more about the best way to select the correct size belt.
Still you end up with incorrect size, fret not ! Oxhide offers complimentary adjustment of belts on the spot at their store. You can get additional holes punched as well.